Decorating your living room yourself is no small task. On the contrary, you end up with a big chore on your hands, especially if you don't have the patience to do these things. Are you almost going crazy? Today, I propose you to see with me different points that you should really take into account when choosing the decoration of your living room. Indeed, whether it is the arrangement of furniture or the distribution of spaces, it is very important to create a good harmony inside your home. How to make a success of your decoration in this case? If you have 5 minutes to kill, it's time to sit down in your chair.

What are you going to do in your living room?
The living room is one of the places we spend the most time when we are in the house and do not want to stay in the bedroom. To create a beautiful decoration, it is first necessary to define all the activities you will do in your living room while you are there.
Watching TV, reading, entertaining people, playing video games or working in a corner. You are free to choose whatever you want to do in your living room, but it is necessary to determine all this before doing anything to allow you to better organize.
What I advise you to do is to list everything you want to do in your living room, even if you know that you will run out of space in some cases. You will then be able to make a choice between what you can do in your living room or not. Of course, you should keep your feet on the ground and not dream of a philharmonic orchestra in the living room. A piano is a better idea, don't you think?
Divide the living room into activity zones
Once you've decided on everything you want to do in your living room, you'll need to start organizing your living room. Setting up the furniture and the different material to ensure the practicality of the living room requires that you spend some time to get everything right.
What I advise you to do is to divide your living room into different activity areas, which will allow you to classify these areas according to your possibilities, constraints, but also the space you have in this room that you have dedicated to the living room.
With a simple sheet of paper and a pencil of course, draw diagrams and write the name of the activity. List next to it all the constraints that the location imposes on you, for example the presence of a window, the installation of specific lighting and others
I also advise you to arrange the activity zones according to their difficulty of installation while taking into account the constraints that you cannot erase or move, like the windows for example. You will then continue with the activities that are more flexible and that you can easily classify as for the corner to receive, for example. It is good to know that you can use an activity area to do several things at the same time.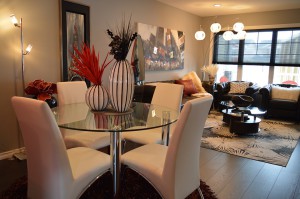 Choose the style that suits you
Before you start looking for the great furniture you're going to put in your living room, I would advise you to first find the style you want to have in your living room. Personally, I have a penchant for nomadic living rooms, but of course you can choose any style you want.
Whether you want to have a living room in a retro style for example or a living room with a very modern style, a design living room, and many others. This decision will help you later on to choose the furniture you need more easily.
In the case of a nomadic living room, for example, a leather sofa and exotic wood table are necessary. Pouf and cushions also to sit on the floor to remind the warm evenings in the desert. Let your imagination guide you, but always be careful to create a beautiful harmony in everything you do.
Choosing furniture for your living room
Finding the right furniture to equip the living room gives you access to a wide range of products that you will find in furniture stores of all kinds. As I just said, the choice of furniture depends on the style adopted for the decoration of the living room, so after finding your style, you'll have to go to specialty stores.
In the case of my nomadic living room for example, I can go to a store of ethnic furniture to get a large African armchair for example and many others. If you want a classic and simple living room, go to a classic furniture store.
I would like to specify that there are still some living room furniture that we can never really do without. These are of course the eternal sofas and coffee tables, the bookcase, the sideboard and others depending on your preferences.
What I can advise you is to avoid as much as possible the furniture that will only serve you for one thing. Opt for clever furniture that will allow you to furnish your living room without risking overloading it.
Be careful when you choose your furniture, take into account the space you have to put them in place. You don't want to fill the room with too much furniture. This does not mean having a beautiful decor.
On the contrary, anything that is light and simple and that leaves you the most space to move around is better. To avoid the TV cabinet, for example, opt for a model that you can build into your wall. Again, make sure the furniture you choose is in harmony with each other.